Our Tubs
Boca: The industry standard
Here at Carolina Walk-in Tubs we understand that installing a walk-in tub is a major investment for our clients, so it's our mission to provide only the best, longest-lasting full-featured tubs on the market. That's why we've chosen Boca Manufacturing as our partner.
Boca Manufacturing have been manufacturing American-made walk-in tubs in for over 14 years and have the only "frameless" walk-in tub design on the market. This design innovation allows us to provide tubs with the lowest step-in height on the market — 2" versus the typical 4-6" heights for other tubs.
All Boca Manufacturing walk-in tubs come with a lifetime warranty on all parts and components.
Take a moment to learn more about the features and benefits Boca walk-in tubs.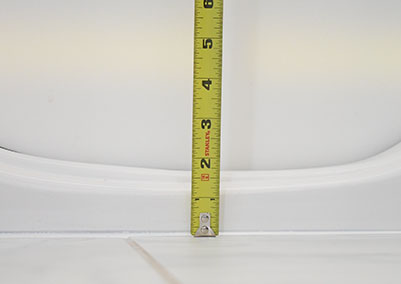 Lowest Step-in Height in the Industry
The 2" threshold for our tubs is the lowest in the industry to give our clients an added sense of security getting in and out of the tub.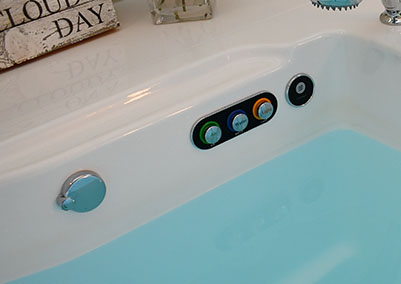 Simple, Easy-to-use Controls
Simple, easy-to-use controls are all centrally-located to allow you to dial-in the perfect bath experience.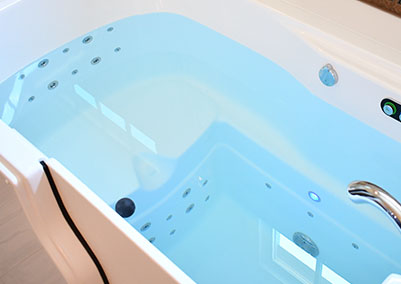 18 Air Jets & 10 Water Jets to relax and loosen tight muscles
Complete body coverage that will help lessen stress and melt pain away as you relax in style.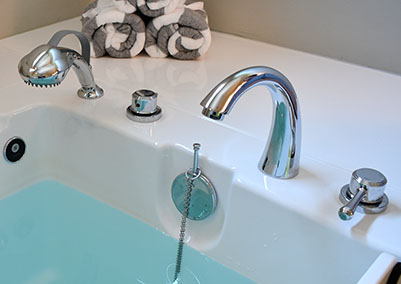 Handheld Shower Wand and Thermostatic Faucet
Add to your bath experience with a complimentary shower head and the added security of knowing that your water temperature will be how you like it — every time.
Customize Your Walk-in Tub with More Great Options
Boca Micro Therapy™ System
An additional air system that releases thousands of tiny bubbles that penetrate the skin to relieve symptoms of skin conditions like eczema.
Rainfall Shower Head
Add a standing shower option for those times you'd like to shower instead of bathe.
Vibe Music System
Relax to your favorite music with this built-in Bluetooth speaker. Use it with the chromotherapy light to create your own lightshow.
Digital Thermometer
Enjoy your bathing experience with a visual reminder that your bath's water temperature is esactly how you like it.